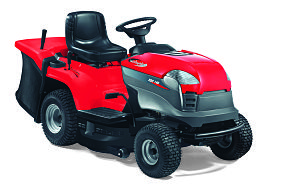 Castelgarden XDC150 Ride On Lawn Mower – Geared
€2,295.00
The XDC150 Castelgarden ride on lawn mower is ideal for homeowners who have a small to medium sized garden.
– GGP Series 7750 Series, 452cc engine
– Geared Transmission (5 forwards & 1 reverse)
– 84cm (32″) Cutting Deck
– Electronic Blade Engagement
– 240Ltr Grassbag Capacity
– Mulching Kit Optional
– Trailer Hitch Kit Included
– Battery Charger Included
– Front bumper protects the tractor from obstacles
– LED Headlights
Please click the description tab below for more details or contact us on 062 71166
Castelgarden XDC150 Ride On Lawn Mower
The Castelgarden XDC150 ride on lawn mower is ideal for homeowners who have a small to medium sized garden. Powered by a single cylinder 7.4 kW, 452cc GGP engine, it comes with a geared transmission featuring 5 forwards and reverse. Equipped with a 84cm cutting deck its twin blades promote improved collection capabilities. The electronic blade engagement facility can be activated with the push of a button. Its preset cutting heights range from 25mm to 80mm which are selected by using the lever located conveniently at the side of the seat.
The Castelgarden XDC150 ride on lawn mower is an adaptable machine. Standard collection features a rear mounted 240 litre grass catcher which can be easily emptied from the driver's seat; simply pull the tipping lever and the collector opens wide, emptying out the clippings. While all models feature this method of collection, a number of alternatives are available. These include a rear deflector attachment and a mulching kit for recycling your grass. Changing from collection to mulching can be done in three simple steps. Firstly, remove the collector. Secondly, insert the mulching plug into the discharge chute and finally, replace the collector. To return to standard collection simply reverse this procedure.
User-friendly features include an adjustable sliding seat for driver comfort and a water hose connection which ensures minimum effort is required when cleaning the cutting deck.